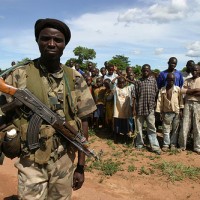 BBC's Africa Today (last night) had an interestingly detailed piece about recent violence in the far northeast of Centafrique, while Alex Thurston at the indispensable Sahel Blog continues his well informed plunge southward into Francophone central Africa. I've done some recent reading about this, beginning with "Dark Age: The Political Odyssey of Emperor Bokassa" by Brian Titley, which is a decent enough introduction.  Over-personalized and underplaying the continuing institutional hold of the French, I'd still recommend it as a good read and a useful corrective to the colonial fantasy reporting about the famously tyrannical Colonel/President/Emperor's 1966-1979 rule of the Central African Republic.  More so, I recommend Thomas O'Toole's 1986 English language history and Pierre Kalck's similar but more detailed work in French (from which most more recent works draw heavily, but which I've only read bits of).  Kalck's recent update of the Historical Dictionary of the Central African Republic, translated into English by O'Toole, is especially recomended.   Given my recent — if superficial — interest in this under reported nation's modern history,  I thought I'd chime in with some updates, and a way folks can read more.
The BBC report, including a summary of an interview given by several UFDR leaders describes the recent fighting at Sam Ouandja, where a large refugee camp for Sudanese is located. The UFDR has in the past been accused of being supplied by the Sudanese government, and the area has been home to anti Idriss Déby Chadian rebels.  Chadians have long been involved in the CAR's politics, notably aiding France in bringing back David Dacko, and providing troops to support François Bozizé in 2001-2003, as they did to aid his predecessor Ange-Félix Patassé in 1997.
The far east of the country is very sparsely populated, and communal conflict between the local Gula people (around Birao in Vakaga) and pastoralists from Sudan and elsewhere is common, as are growing conflicts with Kara to their south. Some of Patassé's men were holed up here — mostly from Patassé's own northern Sara ethnic group from well west of Bamingui-Bangoran.  As well Vakaga and Bamingui-Bangoran became a place of exile for some Muslim an northern disaffected soldiers of Bozizé's rebellion, in a nation long dominated by the M'Baka of the southwest, former president André Kolingba's tiny Yakoma, and the Gbaya people of the center north, the largest ethnic group in the country. When the Army fought through Vakaga in 2007 with the help of French airpower, the human rights abuses were extreme, and ethnic and religious tensions were inflamed, with reports that southern soldiers especially targeted Gula communities, reinforcing ethnic grievances and an ethnic coloration to the previously more mixed UFDR.
The report last night describes small scale fighting (three killed) between UFCR or former UFCR men of Gula ethnicity and Sudanese from the Sam Ouandja camp. The UFDR claimed that the camp provides cover for rebel groups as well as many criminal gangs. This whole area is plagued by bandits much more than by rebel soldiers. The UFCR is demanding the camp be closed, and this seems to have taken on a rather ethnic vocabulary. The UFCR also complains that there is no camp security to speak of provided by MINURCAT, the French led stabilization force in the northeast. Add into this mix the Chadian rebels, Sudanese rebels, Sudanese government, the CAR army (FACA), a recent history of French bombing Birao to ashes, seminomadic pastoralists competing with farmers for resources, and you can see why this is a mess.
And this leaves aside the recent insurgency and continuing banditry in the northwest, the recent attack on N'Délé by a small rebel splinter faction, the absolutely shattered state, economy, and political culture handed down from particularly brutal colonial and neocolonial regimes, and the aftermath of the 2002 mass murders by the militia of Congo-Brazzaville's Jean-Pierre Bemba, who surged into the south to support Patassé, Bemba's subsequent prosecution at the Hague, and Patasse's recent return from exile.
Once again, I have to recommend the work of the International Crisis Group. I read "Central African Republic: Anatomy of a Phantom State" last week, and it's the closest thing I can find to an English language history of the troubled recent years of the CAR. The two ICG reports and the HRW report make a good briefing. I'll save my breath on the 2003-2007 war and it's multiple regional insurgencies that have never really ended, so you can read better informed sources offered below.
To get a general idea of the geography: Sam Ouandja, where the camp at the center of this recent bloodshed happened, is in Ouadda (Haute-Kotto prefecture). UFDR activity has extended from Bamingui-Bangoran Prefecture (where N'Délé is to the west), through Ouadda Sub Prefecture of Haute-Kotto (south) and all of Vakaga (the northeast of the country). Most of the UFDR activity is in Vakaga (Ouanda Djallé and Birao), while the largest concentration of Gula communities in is Birao (the northern 2/3ds of Vakaga.
Ethnologue has a detailed Languages of Central African Republic Map.
Other Related Links

Centrafrique: When a neocolony collapses by Tommy Miles, unless otherwise expressly stated, is licensed under a Creative Commons Attribution-Share Alike 3.0 United States License.